So when you have shown your riding skills mastering riding the beast they pretty much will let you ride anything after that. We were still down to the three of us Beth, Maxxi, and myself. We decided to have a boy's club day out riding. Beth decided to ride Charlie as punishment for him leading the horses in their escape last night. Maxxi although she wanted to ride Anica since we were bringing a stallion no girls were allowed. She rode Jonah a sweet gelding. Jonah looking sweet
I got to ride Eddie on of the farms two stallions. We rode by Eddie yesterday when he was out in the field with his wife Nicole and new baby. Maxxi and I got the other two horses ready and Beth was driven up the hill to grab Eddie. Eddie's new baby was a little upset that his dad was leaving for work and was running around like a little crazy guy.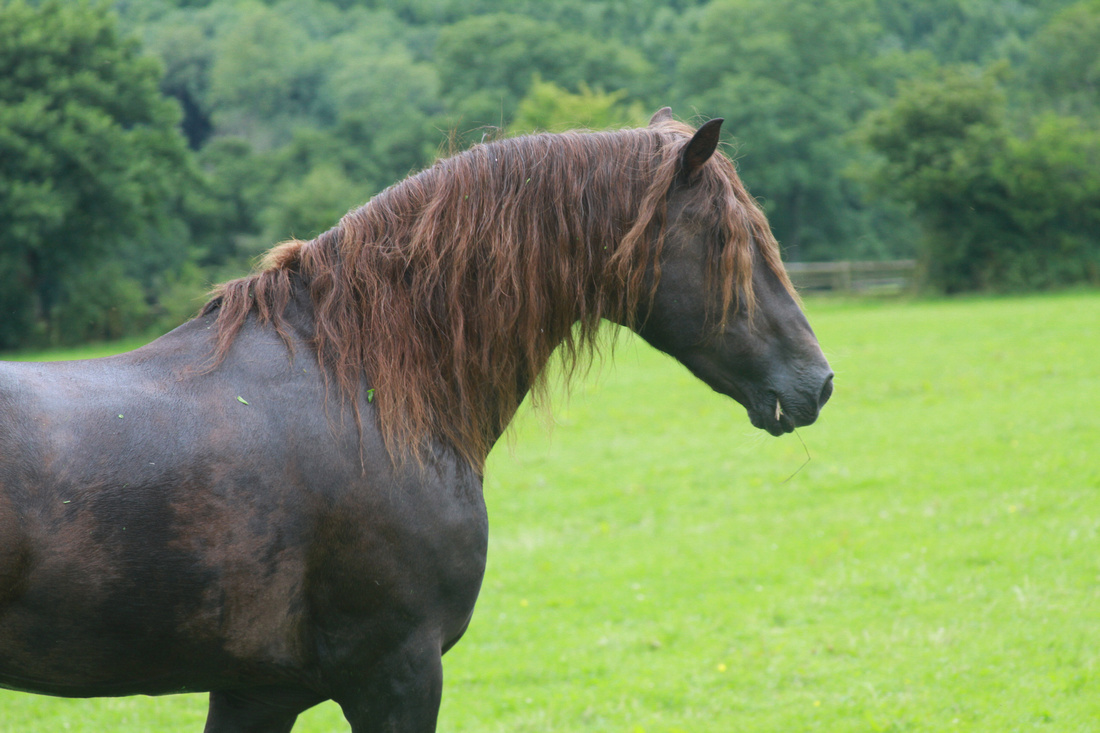 Eddie is such a good stallion. It may be cause he is used as a breeding stallion and isn't as high strung as some of the stallions I have dealt with in the past. The last stallion I rode was my friend Mary's stallion Fritz way back in the day when I was a teenager. Fritz was a big guy over 17 hands. Eddie was petite but so very sexy. He has so much mane and forelock that they need to be braided up so that they don't smack you in the face and also so he can see. We made him all fancy brushing out his sexy mane and tail with some skin-so-soft to make it manageable. Once he was all fussed over (he loves being brushed and fussed over.. kind of a pansy in that aspect but still sexy) we tacked up with our long jackets on (it's Wales there is always a threat of rain) and headed out.
We passed Eddie's family and he got all-fancy for them but got over it quickly. He knows when he has a saddle on its work time and not time to shag everything that passes by. His gaits were really comfortable and he is quite narrow which was a nice break for my sore hip. We started out more or less the way we did yesterday but took some new turns and were heading for a cute pub for lunch. Eddie is quite lazy for a stallion. Beth described him perfectly today. "You know when you find a dead sexy bloke but he has some weird gross habit? Yeah that's Eddie" Eddie like many dogs has to mark his territory as we went along the roads and trails. Eddie is a poo sniffer. Anytime we came across a pile of horse poo Eddie had to stop and sniff it. Then he would walk forward and poo on the poo. Then reverse and re-sniff the poo to make sure his smelled worse and then could continue on. Besides this weird habit he was a dream to ride. He was great with the gates, didn't mind the sheep, got along very well with the other horses not trying to be a macho stallion. All in all besides the poo sniffing a perfect horse.
We made it down into the village to have lunch and there was another group of horses already tied up outside of the pub. They had a mare (girl horse) with them. This wouldn't do. We didn't want Eddie to have lunch and a shag with some random mare. He was a married man with a wife and child back in the field. We decided to tie him up across the street to a lamppost. Eddie also like to take his halter off aka get nekid when he is bored so we wanted a little more distance between him and this mare. There was a large stonewall enclosing a playground on the other side of the lamppost. We decided that a wall and some grass would be a better separation from the mare. Eddie was very happy with this situation and we were as well because we were able to keep an eye on him while we ate lunch. My nephew requested that I ride a horse like Bunkin today. Eddie's personality was just as weirdly awesome as our Bunkin back home.
Lunch was good today I had a Brie sandwich and yummy chips (aka fries) we took our time getting ready to leave because the group also tied up at the pub were going in the same direction and we wanted to give some space between the mare and us. Maxxi asked if we were going on another exploration adventure this afternoon and Beth replied that we were just going to the commons a wide-open flat space for a proper gallop. We passed some wild ponies on the way to the common, which luckily their stallion and mares kept their distance from Eddie. Eddie was more focused on the common and where we were going to run than the other horses.
The weather was kind of crappy today with the clouds coming off the mountains and rain and wind. We headed off across the field in a proper gallop. Eddie was a blast. He felt like he was charging into battle all stampy and super strong in his gallop but I felt in complete control. It is a fun feeling. My pony would have been bucking like a crazy thing across that field. As we were going I heard a "hold up" from Beth cause we had lost Maxxi. I thought she had gone off in a different direction but she had parted company from her horse. We caught Jonah and headed back to recover Maxxi. She said she was ok Jonah had given a big twisty buck and unseated her. The ground was nice and squishy there and she seemed all right. Nothing broken and she said ok. We continued on keeping a closer eye on Jonah who was looking very sorry and ashamed that he had bucked his person off. More sheep, more hills and back into the bracken. Again these horses are amazing they never put a foot wrong and canter through insanity. We were cantering along through the bracken and a sheep was running along side us. I was really hoping that it didn't decide to jump in front of us or into us. Apparently Eddie likes to catch sheep with his teeth and carry them around. As funny as that would have been to see I'm glad he left this sheep alone.
The weather was constantly changing as it does in Wales. Hot, cold, wet, sweating we had it all today. We made it back to the farm just as a group of Japanese tourists and one Italian lady were leaving for their afternoon ride. Eddie was put into a stall so as not to cause a commotion as they left and once they were gone we brought him out and got him all sexy to return him to his woman and to take some pictures of him. He was very excited as we rounded the corner to his field and his little baby was calling to him. Considering most stallions need a chain over their noses to control them Eddie just needed a cotton lead over his nose. He was strong but still a good boy. We were expecting a grand reunion. There was some rolling and then he ran over to his mare. She squealed tried to kick him and he wondered off couldn't be bothered. The little baby was super cute and the mare Nicole was as wide as she was long. A proper breeding mare. This foal is full brother to Beven and Bandit both cute chunky things that I want to bring home. Beth had the quad bike a we hopped on and went down to see the other two foals and their other stallion McCoy.
We had fun scratching the babies and mums and seeing the other stallion (who isn't ridden) who looks quite fat and pregnant himself. We hopped back on the bike and went back to the farm. The Japanese had just come back from their ride and I ran to the house to get a hot shower before they all arrived and stole all the hot water.
Paul and Lucie coming back from a ride.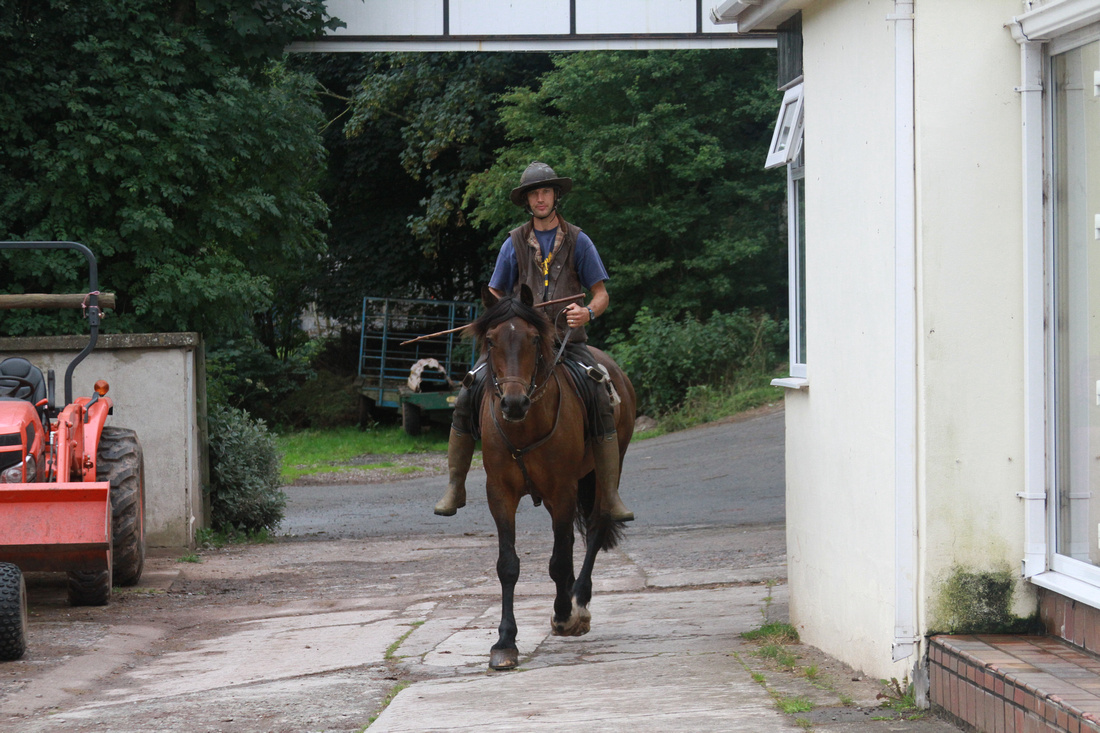 Wednesday night the kitchen is suppose to be closed so the girls invited for me to go with them into town for Chinese food. Hattie who works in the kitchen with Maria (bless that girl cause Maria is kind of scary to stay with let alone work with) had caught Lucie's cold aka the Lurgie and was parked out on Beth's couch. She joined us to go pick up food and we were off. Lucie was caught and forced to help out in the kitchen tonight. We went to town and good some food (thoroughly confused the guy taking our orders) and then headed back to Beth's caravan.
Dinner was pretty good and I was exhausted. I headed back down the hill to bed.
Tomorrow is an easier day if it's it raining we are going to just ride in the afternoon. I basically want to avoid having to ride with the Japanese.