I must appoligize for the lack of pictures. Not knowing how the horse is going ot behaive that I'm riding makes it difficult to judge whether or not to bring my camera. I have posted pictures of the horses included in the rides and I'll add pictures of the area as I can. I stupidly forgot to pack my small camera for taking pictures while riding. Maybe I'll bring my Iphone it's broken anyway. Also the weather changing also makes taking my big camera difficult.
Today was another day for a ride. The sky threatened rain all day but we were blessed with another dry day in Wales well at least the part we were in. Maxxi's dad is staying on the farm and has been doing an insane amount of mileage road biking everyday upwards of 100-150 miles a day. The route he did today apparently was a heavy downpour. We said good-bye to Carry this moring and it was just Beth, Maxxi and I out riding today. Beth rode Ockie the chunky blonde pony. Maxxi road Anika daughter of Ellie who she rode yesterday and I rode Ruby. Ruby is a throughbred/Welsh cob cross. She was tall 16'3 hands but had big chunky feet. I think there must have been part giraffe in her as well because her neck went on for miles and miles. She was a sweet mare a bit of a nuge on when tacking up but overall a sweetie. I climbed up and we headed out on our ride.
Lucie joined us for the first portion of the trail on a younger horse she was helping to break in. She is feeling a little under the weather and has been sneezing an making strange sexy French noises post sneeze. We have been making fun of her all morning.
We passed some of the farm's upper trails that had the broodmares and stallions in them. There were 3 babies that looked super cute and I'll have to go back up for a closer look and pictures tomorrow. Eddie one of their stallions is very handsome and came by to show off and say hello. We did a short loop and then said goodbye to Lucie and headed into the town for lunch. We discussed movies on the ride this morning and all agreed that Chris Hemsworth aka Thor was beautiful as was Chris Pine, Liam Hemsworth, Chris Evans and a boat load of other hotties. Lunch was at the Mill store, which has a working water mill that still grinds the flour for the bread. This bread was so yummy. I wish I had more money on me cause I would have brought a loaf home considering the owner Maria isn't fond of vegetarians and has slowly been starving me this week except for feeding me boat loads of potatoes.
We ate lunch rather quickly with only three of us and decided to go exploring this afternoon. Beth wanted to explore some woods that she has gone by in the past. Maxxi and I were up for an adventure so we headed off. The woods reminded me of the trails back home and we steadly climbed up big hills. We peared down what looked like a good path downward but it was blocked with a large fallen tree. We eneded up going down a very very steep path and when you are on a very tall horse makes it seem even taller. At the bottom of the steep hill we decided to track to the left hoping that the path would wrap around the hill and put us out back where we started. After a short detour that ended up being a narrow foot path we continued down the wider path that had two fallen trees on it. The trees weren't so large that we couldn't step over them. Ockie having shorter stubby legs got slighty stuck in the tree branches but quickly and calmly got himself out. My long legged part giraffe horse stepped over them with no problem. Anika lifted her front feet over and hopped her hind legs over so as not to get caught. The path lead to a gate that was not where we wanted to be and was padlocked shut. Bloody Hell we were going to have to come back the way we came over the fallen trees again. The two mares hopped right over the trees and were quite dainty about it. Smart girls. Ockie came up to the log and stopped dead. Beth was thinking he was just going to jump over it and wasn't expecting him to stop. Then without warning he popped all four legs up and bunny hopped over the log throwing Beth off balance and causing the best facial expression ever. See the photo below which is the best illustaraion I could attribute this to. The Thelwell ponies are a illustration that sums up chubby naughty ponies perfectly. Ockie channeled his Thelwell pony today hopping over the log.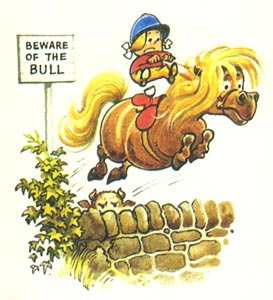 The path that we were now on (taking a right instead of a left after the steep hill) ended up being a beautiful path. Nice and long and great footing for a nice long canter down the lane. The only problem with this path which we encounterd when we started out is that there isn't an opening gate at the end. There is a very small opening and we weren't sure the ponies could fit through. We dismounted and walked the horses through. It was a tight squeeze but everyone made it through. Note. For future rides on this trail only ponies skinnier than Ockie can go.
Our exploration took a bit longer than we hoped and it was getting late as we headed back to the barn. We were out for about 5 ½ hours today. My knees were sore as were my hips from going up and down the steep hills. You have to really lean back and stick your feet forward going down the big hills to help the horse balance. We made it back to the land we came down earlier this morning. We had some awesome canter/gallops and it was breathtakingly beautiful and super fun. We may have chased a few more sheep this afternoon which the horses seem to find fun. Again I am so impressed with the surefootedness of these horses. I was basically just holding on and Ruby was picking the lane and placement of where to put her feet.
We made it back to the barn and as soon as I dismounted I flopped to the ground to help right my sore hips. With a little bit of stretching they are doing better. Still sore but functional. A hot shower also helped and I smell nice now. Dinner was quiche and salad tonight. Maria is struggling with the vegitarian food. There apparently is a vegan, gluten free, no nut person coming next week. I will look like a saint compared to that poor soul. I'm sure they will get an earful from Maria.
We sat around the dead animal room and I showed the girls some videos of our horses back home being silly and then Lucie popped her head in and told us to come help the horses had gotten out.
The horses are kept in 2 very large paddocks but they move the electric fence so that the grass can grow. The horses had plowed through the fence (Charlie was the likely instigator) and were in all the deep grass. Beth, Maxxi and I joined Lucie with our sticks and somehow with out much trouble herded them back into the correct field. They all ran through the river and into the far paddock and all were looking back at us upset that we had ruined their fun and the yummy grass. The fields and horses looked so beautiful with the rising half moon peaking over the mountains.
I am quite sore tonight. My arse is killing me. Losing so much weight in the past year I apparently have lost quite a bit of padding .
I got to Skype with my niece and nephew this evening and got to tell Gavin all about the ponies I have been riding. He told me that I should ride a black one tomorrow like Bunkin (one of my friends horses.. Bunkin is a nickname). Bunkin is one of Gavin's favorites. He told me to ride a black horse and name him Bunkin #2. I think I am going to ride Julius tomorrow. The naughty one who has been shagging mares in the field even though he has been gelded..