Sorry for the delay in posts. Utter exhaustion has set in. I made it to London this afternoon with all intenions of sight seeing but all I saw was Heathrow airport and my hotel room.. I am having a lazy afternoon and some much needed R&R after 17 days of extreme excersise. I have plans tomorrow morning to meet up with the London crew I was walking with on the Cotswolds and Paul who saved me from the rain in the afternoon.
So here is a recap of the last two days in Wales.
Thursday morning I was awoken at 7am by Maxxi who wasn't feeling well (dizzy and sore muscles) and crying. Me trying to calm her down wasn't working so I had to get Beth for back up. We tucked her back into bed with a hot water bottle and Beth and I decided not to ride in the morning. It was raining and we were just going to do two 1/2 day rides anyway. I spend the morning helping out in the barn. We tacked up the Japaneese riders and sent them out in the rain. We then cleaned the barn and went to spend time with the yearlings that had just returned to the farm. One of the yearlings was the full brother to Eddie's new foal and to Beven aka Chunky Monkey. This yearling's name was Bandit and he has totally made it on my list of ponies I want. I mean look at this face (red bay) so stinking cute :)
Beth Lucie and I went out in the afternoon. Lucie was riding one of the babies Summer that has been ridden for the first time on Tuesday. We decided to take them out for a short hack. I got to ride Julius and Beth rode Ockie again. It was a blonde sandwich with Julius in between.
Due to the rain we decided to just do some lane work with the horses because the ground was slippery. Summer did such a good job and was so brave even with the scary lines on the road. It was on these lanes that I fell in love with Julius. What an amazing trot. He carried himself so gracefully and the extended trot.. to die for. Julius has been on solitary confiment due to his shagging random mares in the field. They aren't sure he was properly gelded. He was my new dream boat thought.
Maxxi was feeling better in the afternoon and joined us for snuggling with ponies and the yearlings. Since I haven't been able to take many pictures from the rides I thought I would include pictures of the ponies and some scenes from the farm.
Charlie trying to be a brown horse :)
The Beast
Ockie (somewhat blonde mostly muddy)
Ruby aka the giraffe
Beven aka Chunky Monkey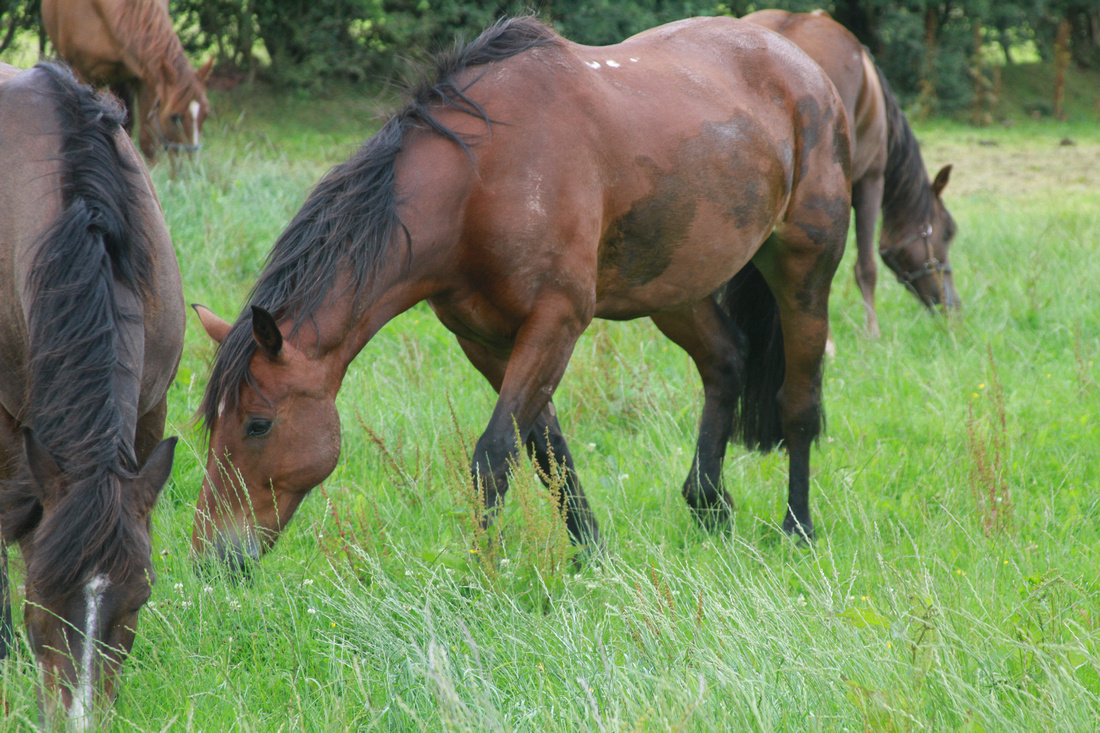 Peter who has just rolled in poo
Eddy's family field off in the distance
While dinner was being served Beth informed me that 7 guys had just checked into the self-catering portion of the farm and were going to be at the only pub near by. Obviously this ment we would have to investigate. Beth and I got all dressed up and put on make-up. Lucie being beautifuly French just put on some lipstick and looked georgeous. Damn French :) We went to the pub to investigate did a quick walk by and decided.. NOPE.. we decided to check out some other pubs. The pub we went to was the Three Horseshoes where we had ridden to the previous day. Yeah all the cute farmers that keep passing us while riding were not at this pub. We had our cider and headed back to the farm.
Friday came to quickly. My last day of riding. Time really flies when you are having fun. Since I had fallen head over heals for Julius I decided to ride him again. Maxxi wanted to ride her favorite Annika but she had lost a shoe. She got to ride Charlie instead (see white/dirty pony above). Our group was joined in by a gentleman named James. James had been to the farm a few times and was just here for a day ride. James was told he was to ride with the Japaneese but we convinced him that we would be more fun.
James joined us on Ebony and Beth rode one of my favorites Beven aka Chunky Monkey. We headed to the town of Telgrath where we had eaten lunch before at the Mill Store. We were heading to a different lunch spot that had yummy curly fries. Maxxi's dad was going to meet us on his bike today for lunch as well. We headed up into the brakens and moutains again. It was a bit slippy but not so bad on the grass. We headed off at a canter up the hill. Julius was beautiful.. his gate was amazing and he looked like black beauty racing up the hill. There may have been a few bucks thrown in but mostly he was brillant.
We had some great canters today down the beautiful lanes. Julius doesn't like puddles and liked to jump them. The perfect event pony for me. Georgous in dressage and a serious jump on him. I was smitten. Lunch and the curly fries were yummy. The cafe was in an old book store. It was some were I could have spent all afternoon in. Charlie untied himself from the fence at lunch and was wondering around the parking lot. Good thing there was an apple tree to keep him amused until we caught him again.
We decided to take James to our secret forest we had discovered before for a canter down the lane. The forest proved to be to slippery so we decided on a different adventure. We went down a different lane that hadn't been used for a while but was a beautiful ride. The weather was perfect (and I got a sunburn actually) We saw some parasailers and the gliders were up over the mountains.
After six days of riding I started to know the trails and could tell that we were getting to the end of our ride. A wave of sadness overtook me. This part of my vacation was coming to an end. We did have to rescue one of the McCoy foals that had gotten on the wrong side of the fence.. No ride has lacked excitement.
We strolled into the stable yard and had to hose off and sponge down our muddy muddy ponies and ourselves. We turned out the ponies and opened the gate and let the herd run through the stream and up the hill to the newly opened grass field.
We had a nice pot of tea with James and then it was time for dinner. I actually almost fell asleep during dinner the past two weeks were catching up with me.
I re-packed my backpack and headed to bed. Beth was giving me (and the Italian woman) a ride to the station in the morning. I found an apple that I was going to sneak to my Julius in the morning so I could give him a smooch good-bye.
Saturday was pretty borring. I felt like I was coming down with the lurgey (aka the cold) so I was in a debate with myself about sight seeing once I got to London. I slept really badly last night and a week on a bad bed did a number on my back. I decided it wasn't worth it to try and push it in London today. I wasted a day on my London pass but being super sick not worth it. I made it to my hotel via Heathrow Airport which is like a city all to itself.
My hotel is very nice. It has a great tub which, I thorughugly enjoyed soaking my sore muscles. I got a few emails for tomorrow and I am quite busy. I am meeting the folks who I walked with in the Cotswolds for a 5 mile hike around central London. I am following that up with some sight-seeing and then meeting Paul (my mini-bus hero) also from the Cotswolds for dinner and more sight-seeing. Ok Bed time for me know I have a busy busy last day in England tomorrow.