I enjoyed an amazing night sleep and a yummy breakfast at my hotel. Dinner last night was good too. I set out around 9:15 to meet up with my friends again for a day of walking. The weather forecasted heavy rain all day and honestly I wasn't looking forward to walking. My feet were holding up after a lengthy foot massage and my calves were doing ok as well. Once I got going from a sitting position they didn't feel so bad. Two of the ladies from the walk yesterday took the day off and we were joined by Tony's wife Vivian today. The walk started across the golf course and through some wooded area. The rain was holding off at this point but the wind was quite fierce. The views were beautiful over Cheltenham and the race course. We stopped for a photo-op on the top of the hill to prove we had been there (and look I'm actually in the photo. a rare thing on this vacation.)
There were many ups and down's today and I was feeling it on my knees. We passed some cute ponies and horses in the fields today.
They were well blanketed in bug protection. They keep complaining about bugs here. I have seen 1 mosquito (which I killed) and three other bugs. I kept telling my new English friends.. you don't know bugs till you come to the states. I told them the best time to visit is in the fall when the leaves are beautiful and the bugs are dead.
We had a long descent from being up so high before another uphill climb. We decided to stop for lunch at the bottom of the hill to rest up before an uphill climb. Conveniently at the bottom of the hill was a sign for tea coffee and chocolates in the garden. All you had to do was ring the bell. We rung the bell and were greeted by a cute black dog. The sign told us to enter just watch out for the free range chickens. A nice gentleman greeted us and put together enough seats and chairs. This "garden tea spot" was literately this guys back yard. He took our orders and graciously allowed us to eat our sandwiches in the yard as well as long as we didn't feed any scraps to Jingles the dog. Our host called out to his wife to join us once they found out that Tony and Vivian had stayed at their house 20 years prior when it has been a B&B owned by the same people. Lunch was beautiful and the chickens came out for a visit. They had a nice bathroom for us to use before we headed up the hill on our way. Tony wasn't joking when he told us that after lunch was going to be a climb.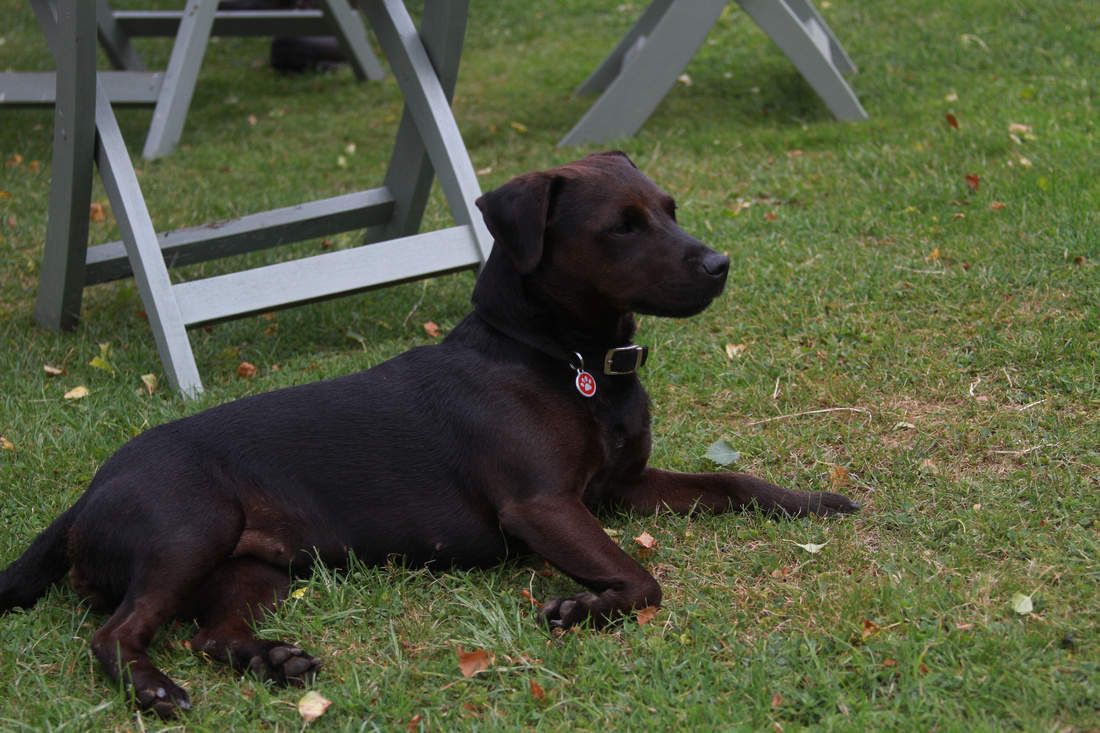 The sun was out and it was hot and humid (or close as the Brit's apparently say) The group was stopping at the Hungry Horse where their mini-bus was going to pick them up. I was heading on to Birdlip another 9 miles.
It was already 3PM when we got to the Hungry Horse and the black clouds of doom were appearing ahead. At this point I had decided to take the bus the last leg of the trip to Birdlip. We decided to ask the bus driver if he was heading back to Birdlip (where the mini-bus originated from) if not I was going to catch the main bus. I asked Paul the bus driver if he could give me a lift back to Birdlip after dropping off the gang in Cheltenham (their base point). Apparently I flashed a 1000 Watt smile and he said "With a smile like that how could anyone say no."
I boarded the mini-bus with the gang and we headed off. Cheltenham was quite beautiful and I sadly said good-bye to my new friends. Anyone else I meet on the trails has a high bar to live up to. Paul drove me back and today he is my hero. The sky's opened and the rain poured down on our journey to the Royal George Hotel where I am staying tonight. I have never been so grateful in my life. I offered to buy him a pint when he was done with his shift and he said he might come back after he gets out of work to join me. Paul ended up joining me and we had a wonderful time at the pub. We had many laughs and my meet up later this week to celebrate his birthday. Whatever I ate for dinner made me very sick to my stomach. Tomorrow is going to be a fun walk.
The Royal George Hotel is beautiful.. well it has a super comfortable king size bed a really hot shower.. and the pub looks nice. That's all I really care about on this trip. I am struggling with my band-aids and blister covers. I am down to 1 and I have to make them work. Hopefully the next town has a pharmacy that I can pick up some more and some deodorant. I can't believe how tan I am getting in England.. it's weird. Well let me correct that I am getting a nice farmers tan. I'll have to even that out when I get to Italy.
Lessons for today:
1. A smile can get you far in life :)
2. Anyone can be someone's hero whether it's providing someone a bandaid, serving delecious tea in your garden, or in my case a bus driver who rescued me from the rain
3. If you think you have underpacked blister bandaids you are wrong.. always pack extra
4. Just cause you order the same meal two nights in a row doesn't mean that they are going to be the same.
5. Stella Cider is delicious