So tonight I don't have the Internet so this post is going to come to you a day late.
These are a few pictures from the sleepy town of Stanton.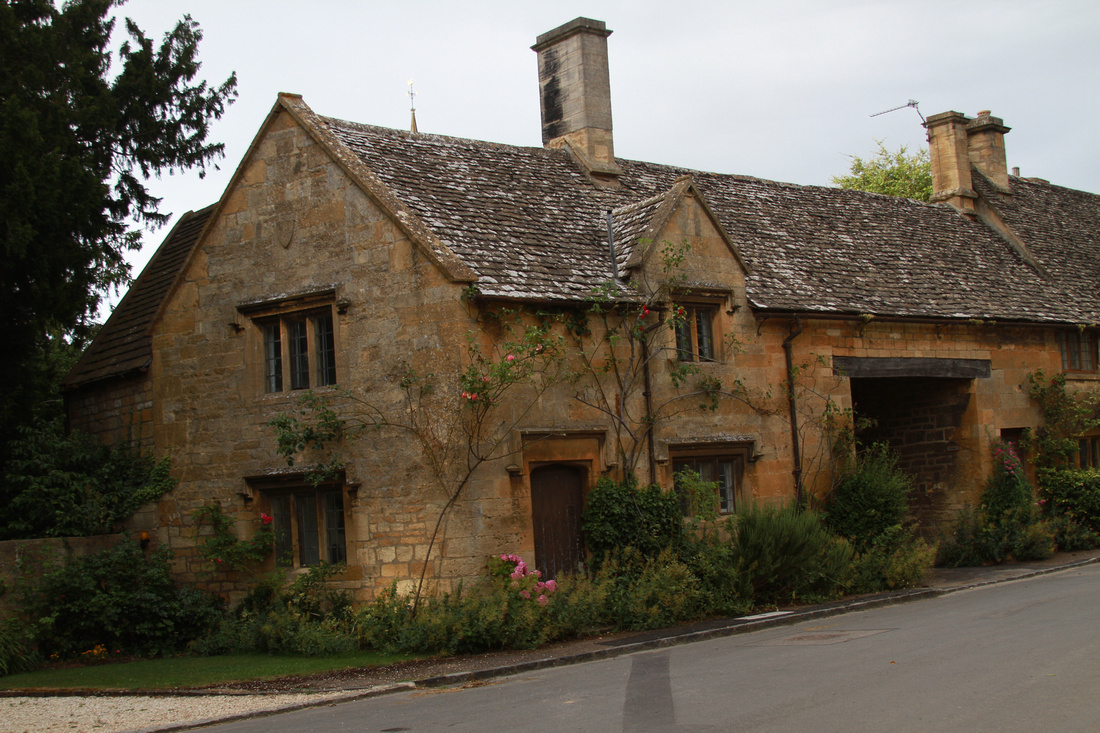 The lady who runs the B&B also has a horse farm so ponies are constantly going up and down the street.
The only pub/restaurant in the town is atop the hill I descended earlier today. With my blisters patched up and different shoes I journeyed up the hill. It was a very popular place for dinner and I ended up eating outside overlooking the town and a beautiful sunset over the hills of Broadway. The cricket match was finally over just as I was heading up to dinner. On my way home I spotted another orange kitty that was leering on someone's fence trying to get in his or her window. He was quite handsome and there seems to be a lot of orange kitties in this town. Turns out his name was Flash and apparently he gets around the town as seen by the cutest baby kitty that was my entertainment during breakfast this morning.
I ate breakfast with a family from Texas who were spoiling their daughter with a horse tour of the UK. The dad didn't have any interest in horses and the mom seemed to be suffering from PTSD from her hack the day before. The daughter Kelsey had 5 quarter horses back home that she did equitation and halter classes with and was by no means a trail rider. She was quite taken aback by the trails and how they ride around here but was excited to go for her hack today and her jumping lesson tomorrow. The yummy breakfast made up for the horrible night sleep on the awful beds they made for some very very strange dreams. I packed up my bag and headed out for the trails.
The sky looked a bit grey and to protect my camera as well as myself I decided to pop on my rain pants and poncho. The poncho I brought was purchased when my mom and I hiked through Scotland. It is a dark green color and we would say "Turtle up" whenever we put them on. With it covering our backpacks and the green color we looked like turtles meandering along. I started out on the walk and was joined for the first leg by a local girl who was about 19 out walking her dog Basil. Apparently he had a reputation for chasing sheep so was kept on a tight leash. We chatted about our ponies (she was dressed for riding) and travel she had just spent 6 months in New Zealand. After about a mile she turned back and I continued on.
I passed the cute town of Stanway, which had a beautiful house. There had been a wedding the night before and the signs and drunken beers were remnance of a good night.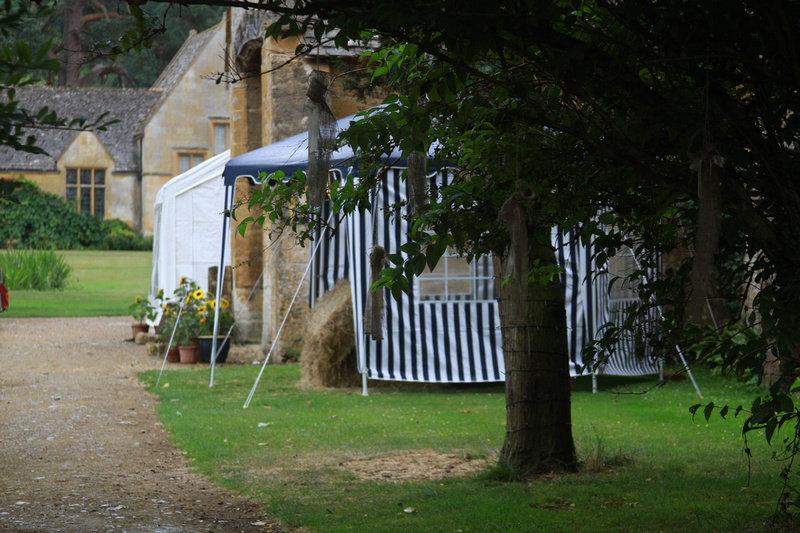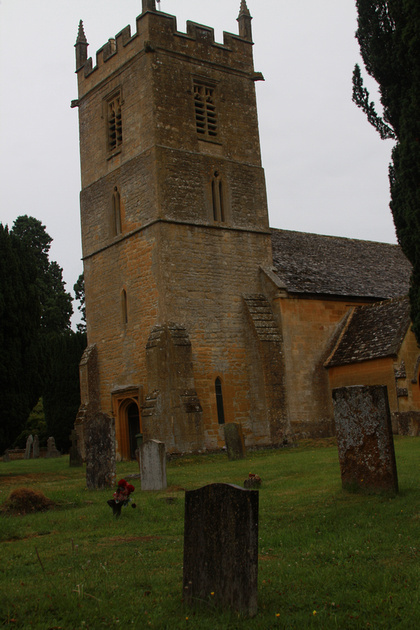 At this point I was getting chilled and decided to take refuge under a tree and add a layer. In a last minute packing decision I decided to pack a first layer shirt. I remembered it had treated me well not only skiing but also on my trip to Scotland. Best clothing decision so far. A pack of walkers passed me as I was layering up and I asked if I might join them for a while. There were 9 of them 7 women and 2 men. They were part of a walking club based in London. The leader of the pack Tony was head of their chapter of The Ramblers a popular group in the UK. Tony is 84 years old. I chatted with him and the other gentleman and his wife John and Julia. The are a sweet couple and we chatted about their upcoming trip to the states, London, and their walking club. Everyone minus one had to be in his or her late 60's. Damn I hope I'm still doing this at their age. Also it was good motivation. If they could do it I better damn well be able to do it. The rainy walk continued up large hills and through some more wheat and bean fields. We passed a ruined Abby and stopped for a spot of tea at the local fruit farm.
Lunch took place under some shelter and a well-needed sock change for me was also in need. So the yummy cheese that the cute guy sold me was delicious. For those who have never had Stilton cheese it STINKS. But it's so yummy. When left in your backpack also makes everything smell like cheese. I have run out of biscuits, which makes me very sad, and in search of them tomorrow. We continued on and all made an executive decision to make a short cut for the day cutting out 1.2 miles, which doesn't seem to be too much but it was worth it. A updated side note. Apparently we made a wrong turn on our short cut and only ended up cutting out about 1/4th of a mile.. oh well we tried. We past Sudley Castle that I wanted to stop at but I decided to stick with my new friends instead. I didn't want to get lost again and it was really raining at that point which would have made for a soggy tour of the gardens.
After our lunch and a little ways further we had to pass through the most beautiful horse farm. It had a beautiful dressage ring, a cricket field of course and these long rolling hills we had to walk through. There was a small herd of horses turned out in it that had no fear of us and also no qualms about cutting us off while walking up the hill. Right in the middle of the path they decided to cut a few of us off while we were hiking and just stop directly in our way to graze. I guess it technically is their field but not very proper of them.
Our maps (we have 4 different maps) were a bit confusing but we managed to find where we were going. We hiked though some beautiful woods and I kept waiting for Robin Hood to pop out or some talking creatures from Narnia.
I did see two beautifully blue slugs and we found some wild raspberries on the way as well. The last long up hill leg of our trip skirted us around a beautiful manor house and some baby cows. There were there misshaps on the walk today. My poncho decided that it had outlived it's life expectancy and ripped. Christina one of the walkers tripped over a shoe lace but was fine. And Tony our leader stopped because something was bothering him in his shoe. It turned out he forgot to take out his shoe horn and it had broken into pieces. He couldn't figure out why it didn't bother him all day.
After leaving the woods we came upon a beautiful farm and manor house. They had some cute baby cows and of course sheep. We walked along the walled garden and through the stables to bring us to our final leg of the journey a golf course.
I am use to the flat courses back home and kept looking for something similar. I would love to see Tiger woods attempt this one. Our courses back home are so flat compared to this mountain. I left my new friends with plans to meet up tomorrow.
I staggered soaking wet into my hotel which they had luckily put my bag in my room but it was on the third floor. I had the most amazing hot hot shower and washed my clothes in the sink and they are spread around my room drying now. I switched shoes and made sure all my Band-Aids were in place and headed back down the street to the Rising Sun restaurant. The pub was packed with of course more dogs. I enjoyed a yummy salad with more Stilton cheese and some nachos with veggie chili, which I didn't have high hopes for but turned out to be amazing.
There is a vintage car rally going on in the Cotswolds while I am here and the most beautiful cars are everywhere. A few were parked in the hotel where I ate dinner.
I pre-packed my bags tonight so it's a bit easier in the morning. I am meeting my new friends in the morning at half past nine to continue our journey.
Lessons of the day.
1. Deodorant is pretty much pointless when you are sweating as much as you do on these hikes. Plus it wasn't just misplaced. I believe I left it behind (on my shopping to do list)
2. Being a massage therapist has its perks. I was able to work my own feet and calves which are VERY sore tonight
3. Age truly is just a number
4. I learned what a pill box is today (a stone structure that was used in WWII for the automatic guns)
5. A good bed is amazing. Tonight's may not be as good as the first night but anything is better than last night's bed