Where to begin.. how about at the end. Today I completed the 104 mile Cotswold Way from Chipping Campden to the city of Bath. I don't think it has sunk in yet what I just accomplished. Most everyone I encountered on the way who realized I was walking this solo told me how brave I was to take something like this on all by myself. When I hiked the West Highland Way in 2005 we saw so many people on the trails I was expecting this to be the same. I was mistaken. I told my family not to worry I would see loads of people mostly to calm their nerves about me going alone. I guess I was wrong. The peace and solidarity was actually nice. I talked to the animals along the way and listened to some great music. I will remember moments of my walk when I hear those songs again. All in all the entire walk was amazing. The times I got lost were for the most part my mistake. The people I met will forever be a part of this experience for me. So lets start back at the beginning of today so you can walk the final steps along with me.
I had a delicious breakfast while looking into a beautiful garden. I consulted my map in regards to the alternative route that the bartender at the pub told me about. That section that he told me about on his map was absent on my map and I decided not to take any chances on my last day. I seemed to take a long time packing up my bag this morning. You would think that after a week I would be a pro at it. My bag currently looks like it has exploded all over my hotel room. Tomorrow packing is going to me more challenging because I have to lug both bags onto the train to head for Wales. Once I packed up and said good-bye to Jane (we also discussed the snake decorations after I gave her my blog address and she said that the plate was inherited and bits and pieces had broken off over the years) I headed off into town to mail my postcards and start along my way. I have found on the walk that once I am in the woods I do fine but getting out of the towns I get all turned around.
A few pictures from Tomorton
Where I had my yummy dinner last night.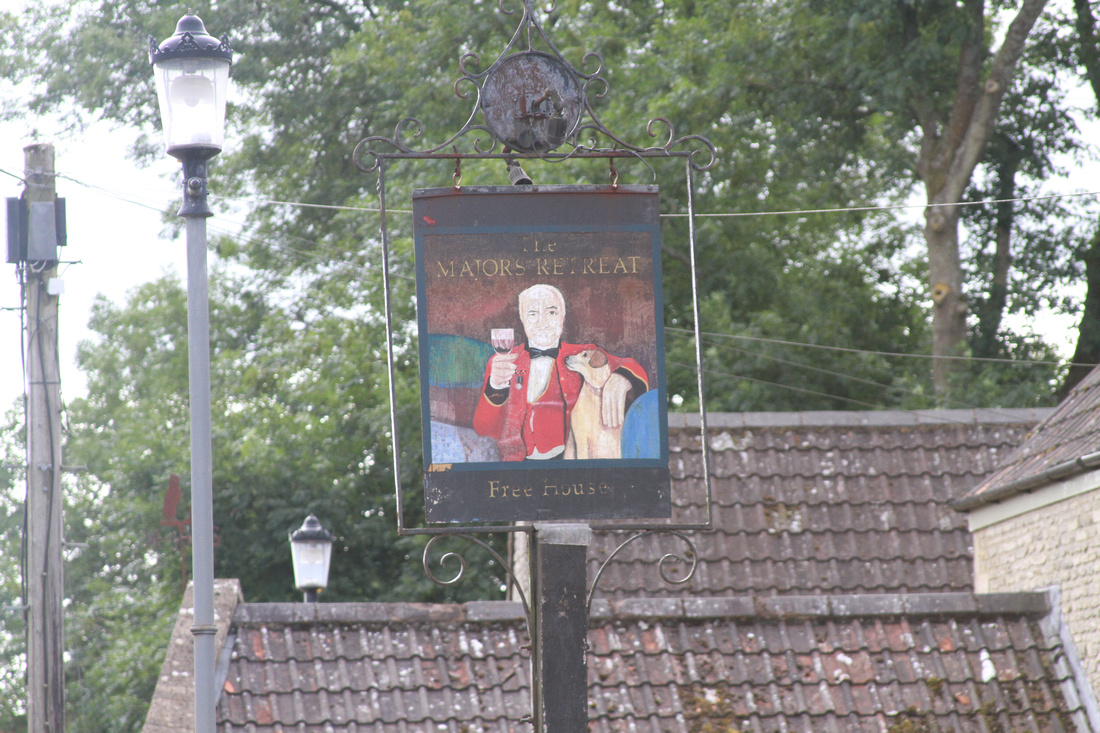 As I was walking I asked a gentleman if I was going in the right direction. He pointed me the right way and told me he thought I was the police coming down the street. I guess wearing all black with a black hat and sunglasses and a camera strapped to my chest I looked like a police officer.
The start of my walk was through fields but along the motorway. This didn't bother me too much because I had my earbuds in and was rockingout to a brilliant British jazz musician Jamie Cullum (check him out he's awesome). I was cruising along this morning. I really think the signs that note the mileage really helped me along.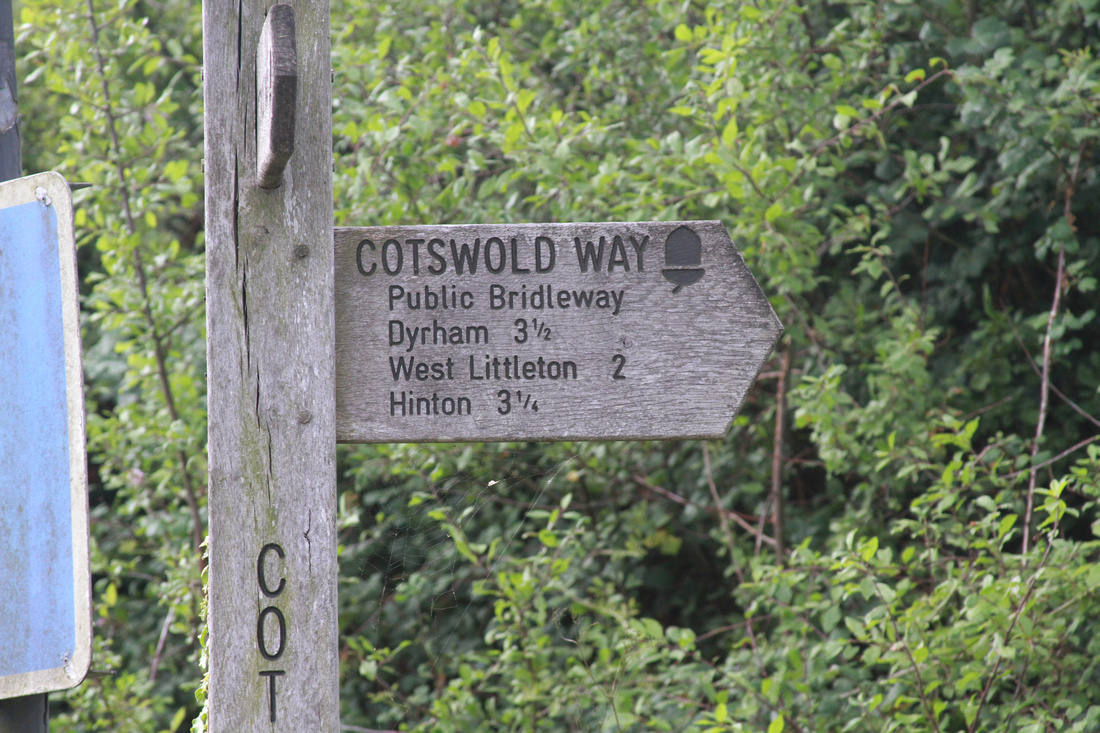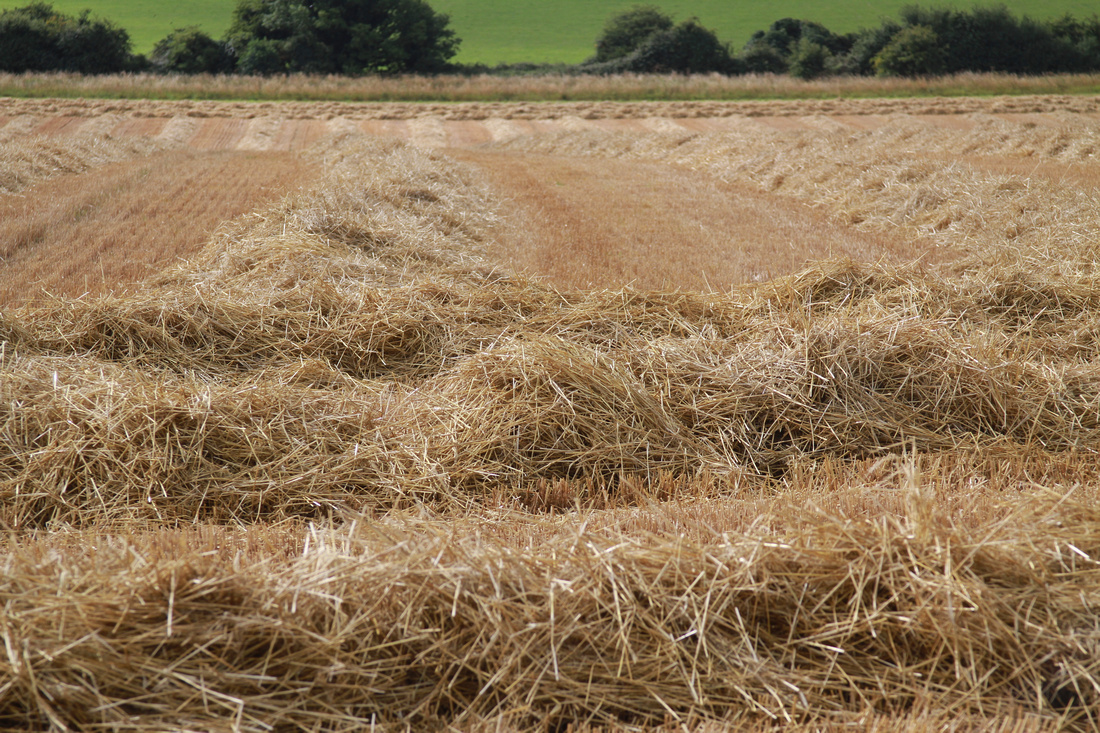 I passed Dryham house, which I wish I had checked out, further but I was on a mission today. I wanted to get as far as I could incase my knee was acting up and I couldn't finish the walk.
The two girls from the pub last night (the one with the dog that bit my finger) caught up to me around lunch time today. I walked with them for a little bit but they surpassed me. They did the entire walk in 5 days averaging about 20 miles a day. This I feel is a little too ambitious. Seven days was I think the perfect timing. The mileage seemed to work out everyday just right. Slower in the beginning and ramping up at the end when your body is more use to the hills and distance.
The girls I found out were sisters and did this type of walk often. I said good-bye as they sped of but I was sure we would meet up again along the way. I was starving now at this point of the day. The weather was perfect for walking today. It was sunny but overcast with a few dark clouds here and there. There was also a lovely breeze today as well. It helped to regulate the temperature and allowed me to walk in just a tee shirt and no need for the long sleeve shirt.
The path lead me down a very very very steep driveway that had a beautiful farm as well as a Special Plant shop. I wonder what kind of special plants they sell there. Perhaps ones that make the yard ornaments do this.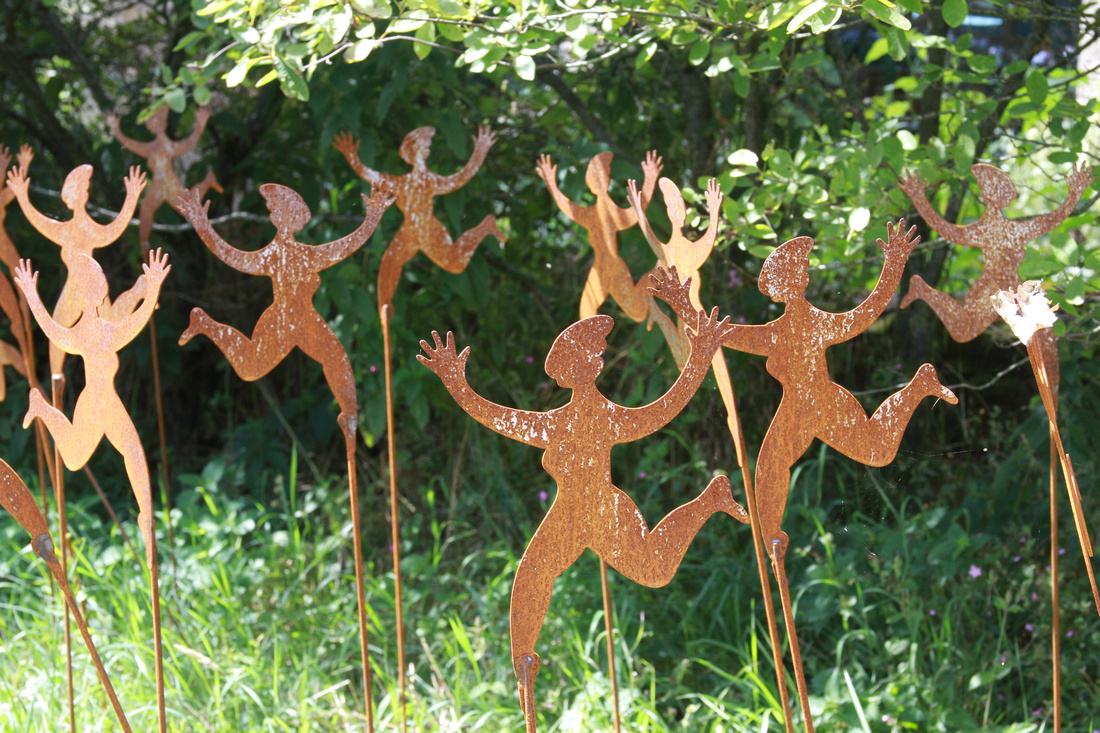 The map book indicated that there was a seat with an excellent view not to far ahead and I decided it was my lunch destination point. Of course it was at the top of a very large hill, which would coincide with the whole view thing. I trudged up the hill and found the seat with the view occupied by the two sisters and puppy. They moved over and I joined them for lunch. I even shared some cheese that had gone a little off with the mean puppy (I guess she had a troubled path and she was tired and grumpy last night but still). Lunch was perfect the seat over looked a beautiful farm and rolling fields.
I think I passed my favorite thing on the trail today and I wish there were more spots like this along the way. It was a message box. In most of the B&B's I have stayed in they have you sign a guest book. This was a guest book for the trail. It was in a wooden box and had all sorts of great entries in it. There was one entry that was a survey on which kind of nut is the best. I voted for pistachios. There were two girls who had drawn a horse vs cow situation that they had gotten themselves involved in. I liked this one the best.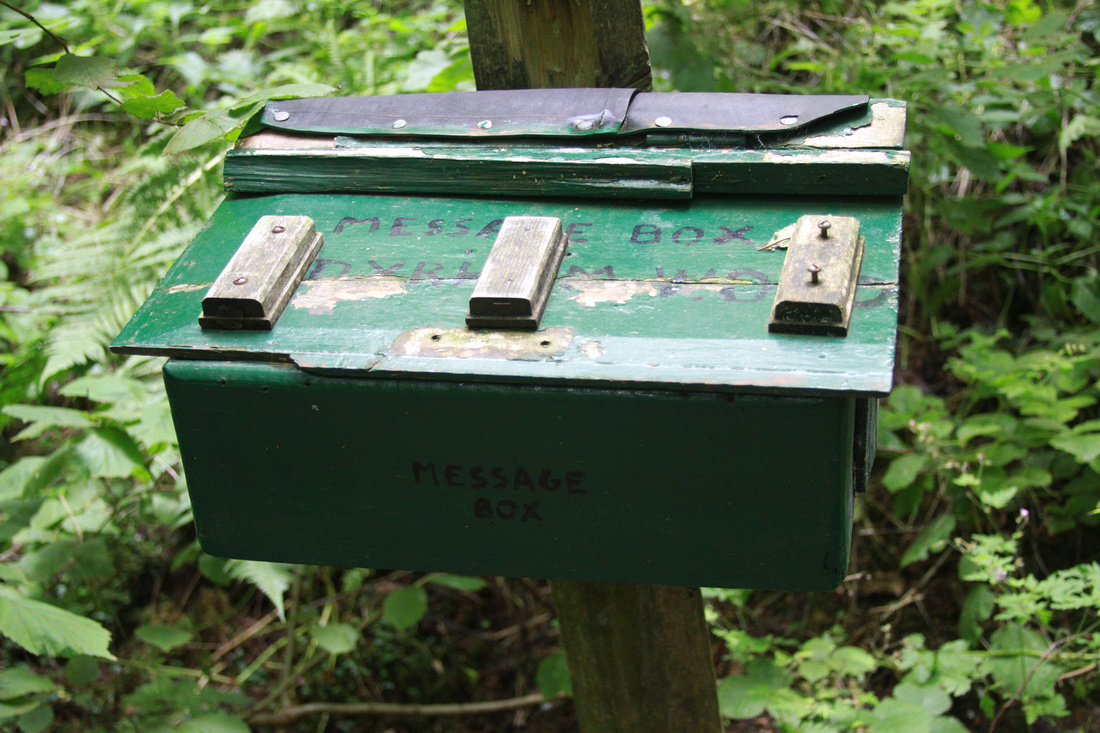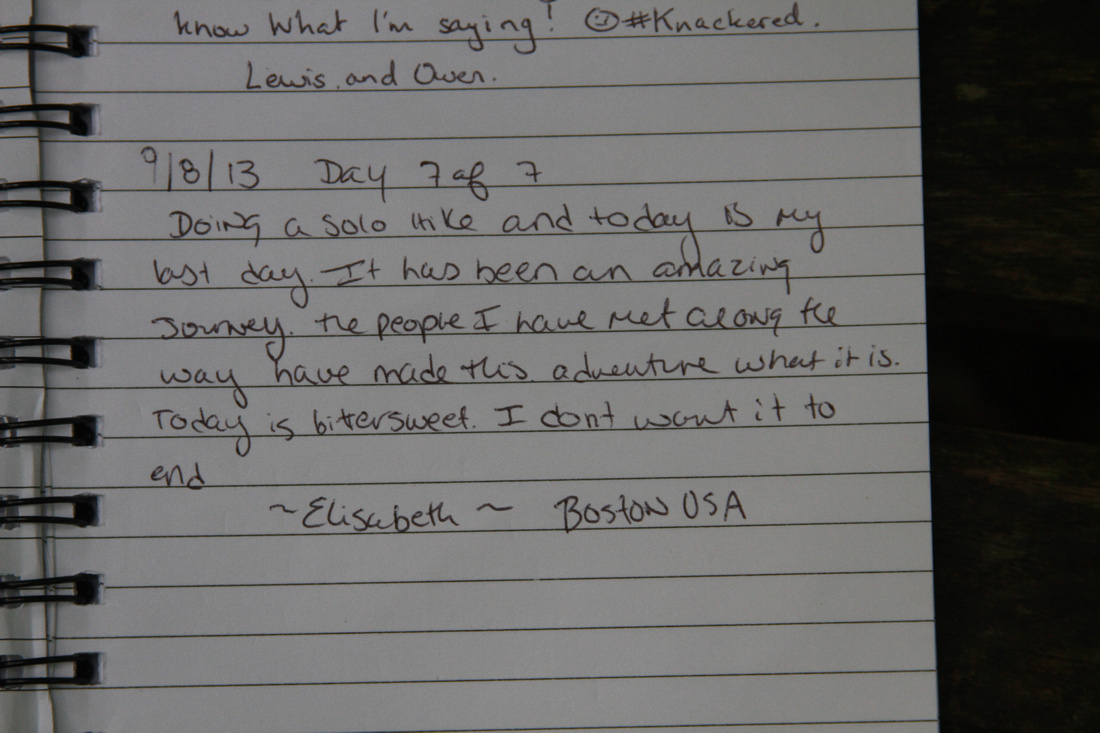 I was coming up to the point in the walk today were I could take one of two paths. The first one was the long route into Bath the actual Cotswold Way. The second was a shorter more direct route into Bath. I was struggling with which path to take. It reminded me of the Robert Frost poem the Road Not Taken.
Two roads diverged in a yellow wood,
And sorry I could not travel both
And be one traveler, long I stood
And looked down one as far as I could
To where it bent in the undergrowth;
Then took the other, as just as fair,
And having perhaps the better claim,
Because it was grassy and wanted wear;
Though as for that the passing there
Had worn them really about the same,
And both that morning equally lay
In leaves no step had trodden black.
Oh, I kept the first for another day!
Yet knowing how way leads on to way,
I doubted if I should ever come back.
I shall be telling this with a sigh
Somewhere ages and ages hence:
Two roads diverged in a wood, and I—
I took the one less traveled by,
And that has made all the difference.
I decided to take the Cotswold Way trail even though my knee was very sore at this point. I went back and forth but I didn't want to cheat myself out of the final leg of this journey. Yes I have cut out a few miles on this trip and didn't get washed away in the rain because of it. Today was beautiful and I felt I needed to push myself. I continued on through the racetrack and over the bluffs looking down on the city of Bristol and eventually on the city of Bath. I reunited with the sisters and one of their husbands and senior citizen dog for the final journey down into Bath.
Once we entered the city we must have looked like three lost souls in a crazy metropolitan city. The girls were catching a train and her husband knew where he was going. He started leading us through the city, which the bits and pieces I saw were beautiful and I can't wait to try and explore a bit more tomorrow. We got a bit lost and eventually found the Bath Abby, which is the ending point. We walked around the Abby for a while looking for a sign or something to communicate the "END". After looking around for a sign of some point I looked down and realized we were standing on it. It was a plaque in the ground with a golden acorn (the symbol I have been following for the last 104 miles.) It listed all of the towns along the walk as well. I said good-bye to the sisters as they dashed off to get their train. There were street performers throughout the town and as much as I would have loved to stop and listen I was a hot tired mess at this point.
I found my hotel which is in a beautiful line of Georgian houses (pictures tomorrow) I'm pretty sure I am in the servant's quarters or what would have been the kitchen back in the olden days. I was very happy that my bags had been dropped off in my room. The man who showed me to my room was very nice (the son of the owner of the hotel) and he asked if I had been touring Bath. Considering I was a mess, covered in sweat, smelled like sheep shit, and looked like I had been hit by a bus it was nice of him to over look that. I showered and realized my knee was extremely swollen. I relaxed and elevated my knee and took some more drugs. I eventually got up and walked down the street to the Indian food restaurant. It was down three flights of stairs. The Indian food is much better back home or maybe I am just use to the place I typically go. I haven't had a good batch since I have been here. It still worked for dinner in my hotel room. I am looking forward to not having to rush off in the morning and then in the afternoon I head out for my next adventure. I plan on continuing my blog throughout the rest of the month as I travel to Wales and also to Italy. I also plan on writing more about "what I learned on my hike" but I am too tired tonight to be deep in thought.