Today was the first day in over a week where I didn't have to rush off and hike some serious miles. I had such a good night sleep in my hotel. The swelling in my knee also went down over night as well. I ate next to a family from Washington DC. They were your typical obnoxious Americans. The dad was looking at a small tub of Marmite and had heard their tour guide about it the day before. I grew up eating it. Marmite is yeast extract basically that is a very very acquired taste. You either love it or hate it. I personally love it. This guy did not like it at all. The look on his face was priceless. The hotel owner was so nice and let me keep my bags at the hotel while I explored Bath. I must have been super tired last night when I was walking through Bath cause I didn't even notice all the people. I was in shock today. Granted it was a beautiful Saturday afternoon but oh my goodness when you spend a week in the country all by yourself that many people is overwhelming. I am a country girl and today drove this feeling home. I was almost in a state of shock and panic. I needed to get away from these people. There were Japanese tourist everywhere they were like droves of cattle or sheep getting off busses. I needed green. I needed trees. I needed space. (London and Italy are going to be a shock as well). I had one mission today and that was Ibuprofen for my knee. I wondered around Bath that is basically just one big shopping mall. I made it to the Royal gardens and botanical garden that were exactly what I needed. I had already bought my ticket to Wales before heading to the gardens and I had about 3 hours to kill in Bath.
This was plenty of time. The best window-shopping I did was at the real estate offices. I picked out some dream farms. Now I just need to win the lottery. It's always the way. In front of one of the shops was the cutest little girl with her dad. Little kids with British accents are so cute. This little girl was about five and she was going on about how this day would have been much better if they had just brought her daddy's car. The dad couldn't figure out why the day would have been better. She replied "cause my sunglasses are in your car daddy" but picture this all with a cute squeaky British accent. I found my way to the Royal Crescent, which honestly is much nicer in the movies. I was a bit disappointed. I wondered around the botanical gardens, which is mostly just trees and open grass like Central Park or Boston Common. It was exactly what I needed. Open space. I enjoyed watching the kids run around with their parents and dad's and sons playing football (soccer). The park also had a huge playground for kids. I didn't photograph it cause I didn't want to look like the weirdo photographing a kids park. It was pretty awesome though. I wanted to play on it.
I had seen one pharmacy so I headed back in that direction and was also thinking about getting a bite to eat before I headed to the train station. I picked up my ibuprofen and some more blister Band-Aids and walked back outside.
Bath has many street performers and people playing music. I passed two girls singing this morning that sounded like a pair of cats fighting. They were awful. As I came out of the pharmacy though there was a guy singing on the corner. His band's name was Alfie and the Owl.(https://www.facebook.com/alfieandtheowl/app_190322544333196) I am pretty sure I fell in love with him. He had the most amazing voice and wasn't too bad on the eyes either. I sat and watched him perform for about an hour. I would have stayed longer if I wasn't going to be late for my train. He was performing some cover songs but I much preferred his original material. One of the songs that were his original (and unfortunately I can't find it online) was called "Where the Wild things are." I loved the song and felt it was appropriate for how I was feeling in this busy city today. I felt like I was a wild thing that had been taken from it natural habitat and thrown into the busy city. Unfortuntaly I had to leave my new love and head back to my hotel to pick up my bags and try to figure out the train system.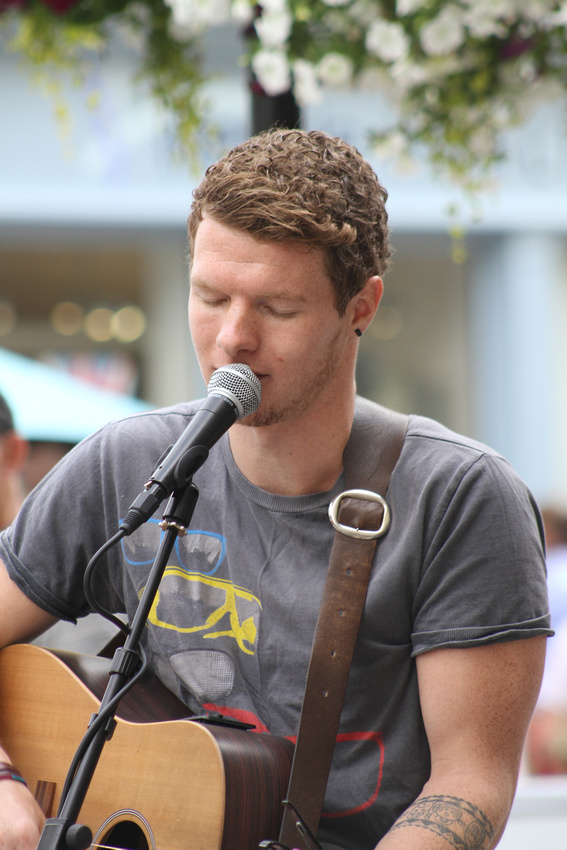 I stopped by the Abby again to see if I could find some kind of patch that says "Cotswold Way" for my bag to continue my collection. Everyone I asked looked at me like I had 2 heads. The Cotswold way must not be super popular yet. I'll look for something online. There was a serious queue for the Royal Baths which I'm glad I skipped. There was also a super scary looking "fairy" in front of the Abby as a street performer. Nightmare worthy.
There were two guys on the back of the Abby that were doing some rock climbing aka window washing the huge windows of the abby and doing maintnence work.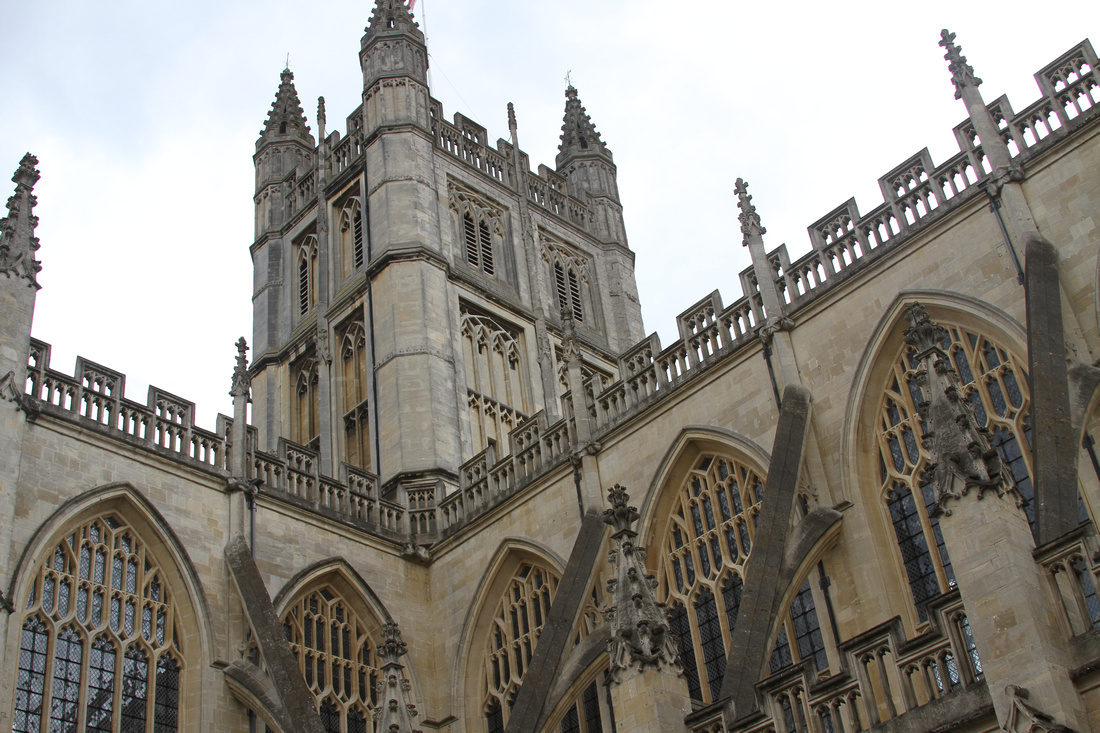 I made it back to my hotel and said goodbye to the very nice people who ran it and headed out. This was the street that I was staying at.
I got some funny looks from people on the street as I was trudgeing through with my two back packs, bag and lunch walking down the streets. One guy joking asked if I could carry his bags too. I have to say I am glad I'm not pulling a suit case behind me though. The cobble stones aren't very good for wheelie suit cases. I passed the police station on the way to the train station and seeing their outfits I can totally see what the gentleman yesterday was talking about how I looked like the police in all my hiking gear. I totally fit in with the police.
I made it through the train gates with no problem and ate my lunch while I waited for my train. The train arrived on time and I only needed to make one transfer. I may have almost taken out a few people with my bag because the train was so packed. I didn't realize how tired I was until I got on the train and the swaying almost put me to sleep. I got off the train and was picked up by a nice cab driver who took me to Trans Wales Trails farm. The Welsh accent is very difficult to understand but still sounds quite nice. I arrived at the farm house and it was a bit chaotic. There were a bunch of girls who were having tea and they pointed me to my room and then I joined them for teatime. The owner Paul (a popular name this week) had just come back from a horse show with his 4 ½ year old son who was proudly displaying his ribbons on his shirt. The girls who I was having tea with were only here for the weekend so I'll ride with them tomorrow. There is a 15-year-old girl Maxxi who is from Germany and will be here the whole week. Her dad is with her but is staying in the town. There is another woman who will be here till Tuesday as well. And some Japaneese women are coming for the end of the week. Maria who is the owners mother is our house mom. A German woman, whom is determined to make me fat this week with her cooking. She is very German and slightly blunt with what she says. Oh well she is a good cook. We all had a nice dinner and then retired to the freezing cold lounge. There is a horse hide complete with tail mane and ears of their beloved horse. It freaks me out. I love my pony but I could never do that or have that in my house. There is also a stuffed badger and who knows what other hides around. We were all tired so its bedtime. The bed in room 6 where I am staying is quite good a little on the bouncy side but it will do. The breakfast bell rings at 9 tomorrow and we go from there. I have to access the camera/travel bag situation tomorrow so I may not have pictures from day one but there are many more days to come.