I recently posted a picture on my facebook page of the famous quote "all those who wonder aren't necessarily lost" well.. maybe sometimes they are lost....
I had the most amazing night sleep last night. Cool breeze blowing through the window giant comfortable bed and a lack of sleep the night before made the perfect trifecta for perfect sleep. There was a loud rain storm that woke me up once and I was more concerned for my garlic Naan bread I had leftover that was perched on the window sill to avoid getting the room all stinky. It was safe and dry and tasted delicious for lunch today.
My first breakfast of what will be my staple for the up coming week scramble egg, tomato and mushrooms with toast was served in a cute breakfast nook in the Old Bake House. There was a nice couple from Sweden who were also staying there. The best guest at breakfast was Tigger Two the house kitty who was a bitty calico kitty with the loudest purr I have ever heard. Apparently they have to kick her out of the room when they watch the telly because she is so loud. After breakfast and packing my bag I headed to Hoo Lane to begin my walk.
Hoo Lane and Hoo Cottage were adorable and a brilliant start to the walk..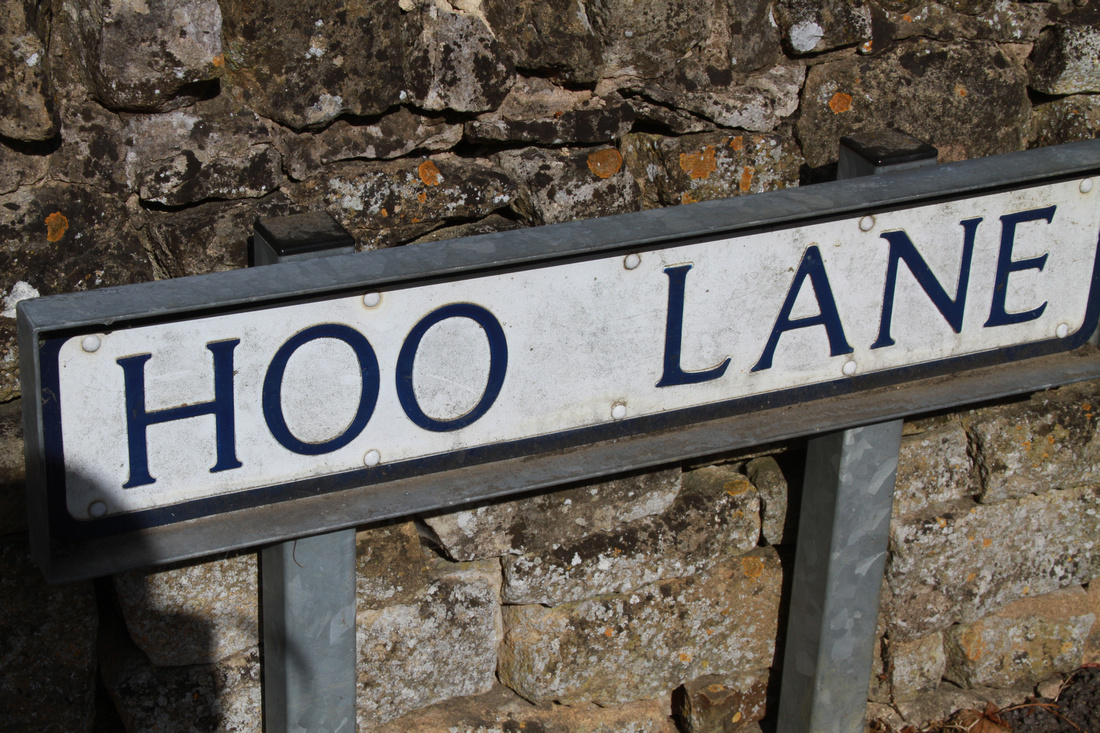 they were quickly followed by a horrid climb up a unattractive hill that had some kind of weird odor to it. I couldn't get my camel pack to produce water and was really wondering what the hell I was thinking. I decided to fight with the camel pack at the top of the hill and there was conveniently a bench.. and well this view..
Ok not to shabby worth the stinky hill. With my water situated and a clever holder for my guide book/map and a carefully rigged camera holder (didn't take a pic of this but I will in the morning) I continued hiking through fields and sheep paddocks.
I continued along through the most amazing wheat fields. It was interesting to see the different kinds of wheat and their growing patterns. There were too different field types the soft looking ones where you just wanted to run your hand through it and the others where they looked prickly and rough. Both so beautiful in their own ways
Past the wheat fields and the what I realized later were Broad Bean fields I came to a cute little park and the most beautiful long rolling path. It was the perfect long flat path for a nice gallop on horseback. I met a very cute puppy (one of many so far) that was out walking with this adorable older gentleman. The puppy came running up to me all happy to see me. His owner thought that I must look like a friend of his cause he said his puppy was quite shy usually. This path was dotted with giant hay balls which made for some lovely scenery.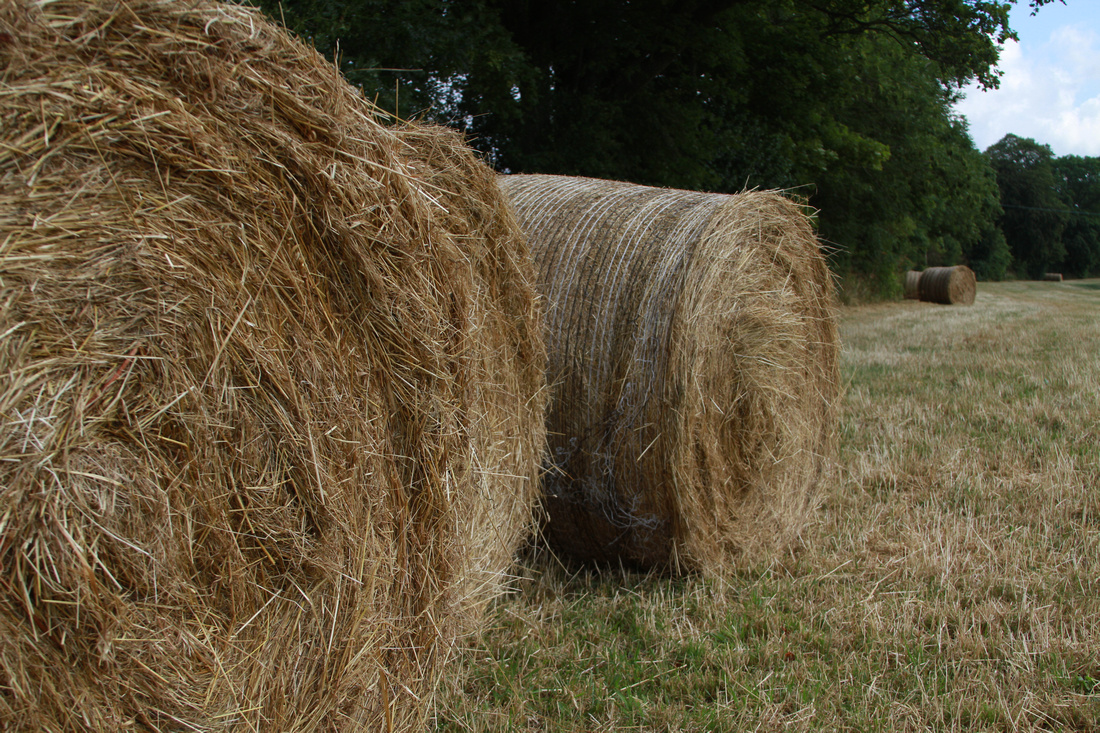 The path tuned from these rolling hills of wheat and beans to a small bit in the woods and a steady climb to Broadway Tower. It must have been the day to mark or vaccinate the sheep in this particular field. The vet reminded me of my vet back home.. or an episode of James Harriott.
The ever watchful sheep dog making sure the sheep are doing exactly what they should be.
As I emerged from the woods and climbed the hill some more I thought that I had left England and arrived at Winterfell in the north. alas no Rob Stark or Jon Snow were there to greet me. The view was beautiful and it was approaching lunch time.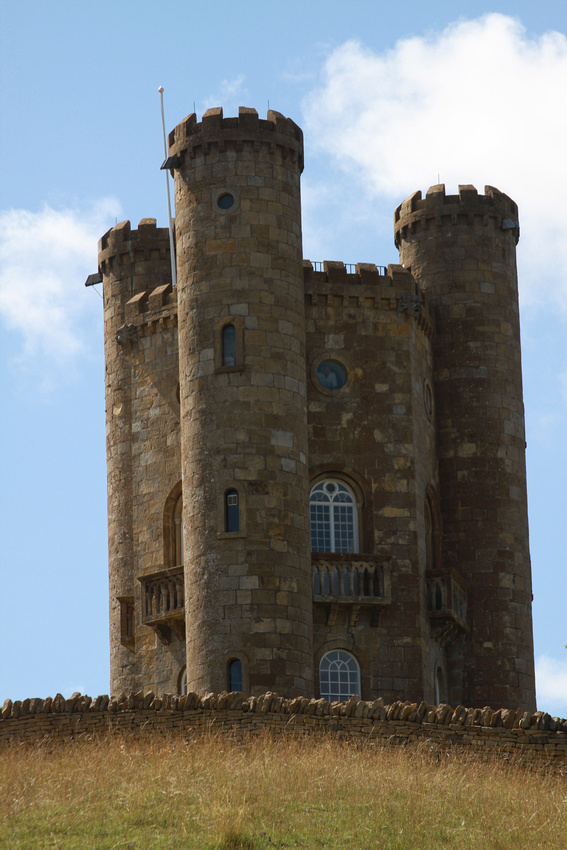 The Broadway Tower seems to be a popular weekend hike and I passed many people coming up and down the hill. People had their pups out for walks and kids were trucking up the hill binoculars in tow.
I made it into the town of Broadway. I passed through here yesterday on the bus when I was heading to Chipping Campden. Like all of these tiny towns in the Cotswolds the small main street is lined with beautiful yellow buildings and tiny shops. I popped into a few shops to try and find a treasure for my niece and nephew and picked up a few postcards. I knew the town I was staying in didn't have any shops so I wanted to make sure I had enough goodies to last me another day. I found a cute shoppe that sold a bit of everything including local cheeses. The guy working at the store recommended some local cheddar and a yummy Stilton. He was absolutely adorable and so nice.
The Town of Broadway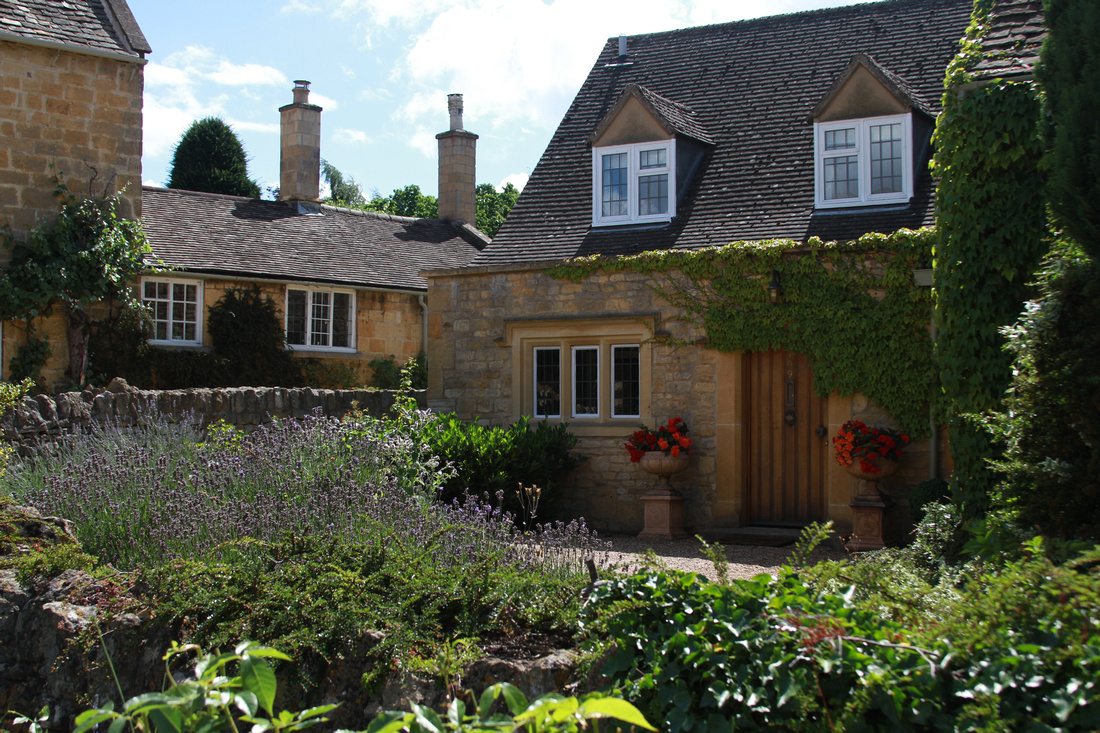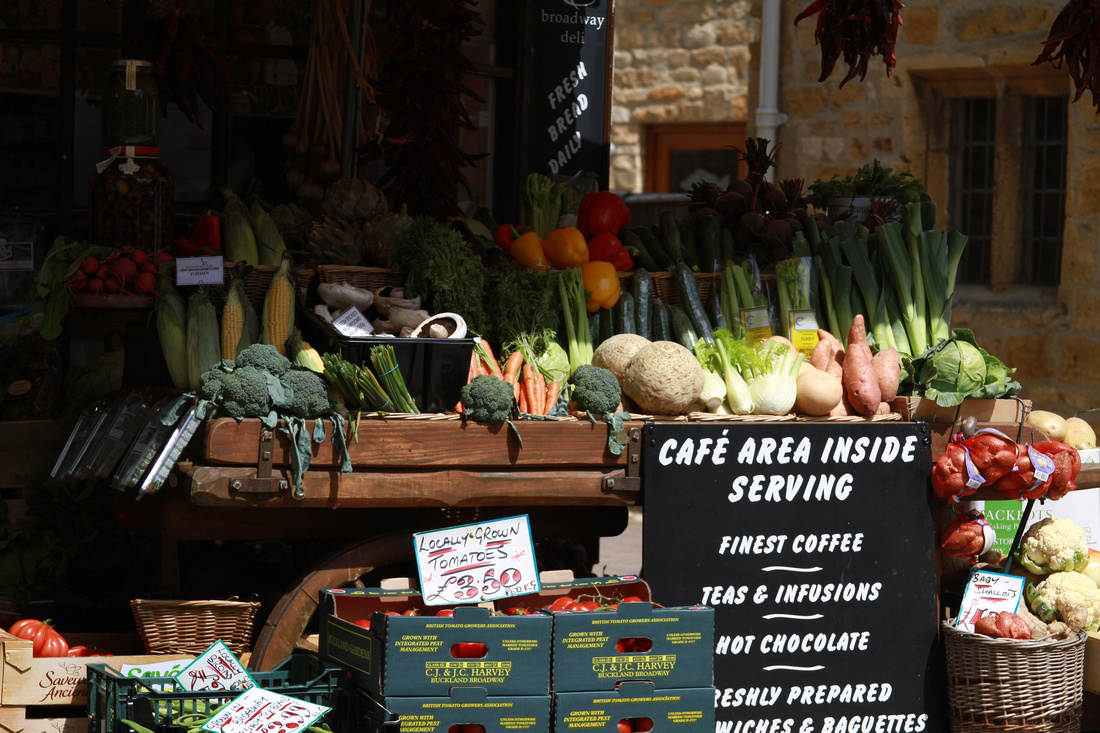 Horses Going for a hack through the center of town
I headed up the hill out of beautiful Broadway towards Stanton my final destination.. or so I thought... I came to this beautiful field with 4 horses in it. The field was so big I couldn't fit it in one photograph. I wanted to pack up all the ponies and bring them over here.. I would never be able to catch my horse in a field like this.. I strolled along this field thinking how beautiful it was.. I would change my tune about this field in about an hour.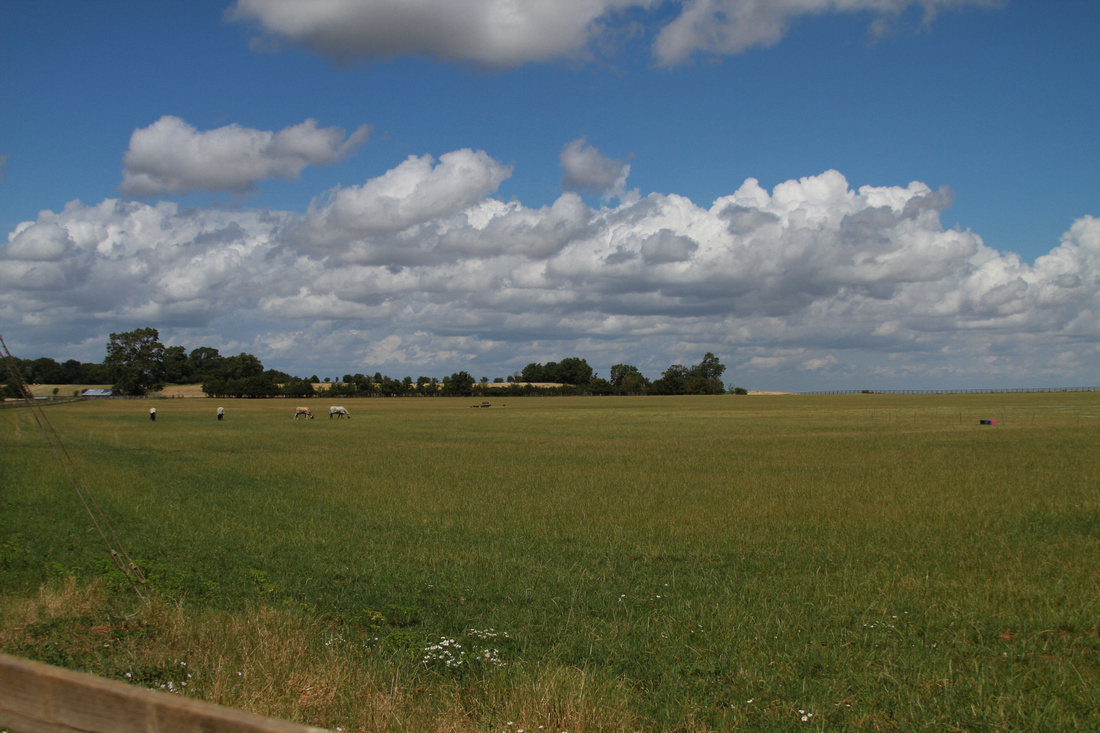 I was following my guide book map which depicted the field that I had just fallen in love with. The book noted that I would go by some cow sheds and continue on by some beech trees and come to a well kept farm path
Well I came to the next sign post and should have trusted my gut. The path was anything but "well maintained farmers path" it was full of nettles and thistles which by the way hurt even through long pants. I came to some trees which I knew didn't look like beach trees but maybe they look differnet in England who knows. I kept following the path that was marked with yellow signs. I kept going well more like bush whacking down the hill. A giant phesant came bounding out of the brush at me and I damn near had a heart attack. I made it to the bottom of the hill and realized that ouchy spot on my foot was a bister forming. I stopped and put on a Plastic (British for bandaid) and continued on. I kept looking for a "cow grate" which was my next landmark. Well I couldn't find one and quickly realized I had taken a wrong turn. A nice British couple were walking ahead of me and were nice enough to point me in the right direction.. which included trecking back up the hill and back to my "Dream field"
Note when the path looks like this... look around for another sign..
I continued on swearing as I passed the correct marker sign 100 feet further than when I turned incorrectly and then passed the beech trees. I came to another intersection which I took an incorrect turn yet again. Pissed that I hadn't passed this phantom cow grate I turned back to go back to the intersection. I came across another couple that were around my age who when consulting maps decided that I was on a short cut to Stanton my ending destination. I chatted with them James and Laura. They were on a camping weekend from Birmingham. Strangley enough we started talking about what we did for work and they were both in bio-tech and worked for an antibody company.. Seriously I'm in the middle of no where and I run into people who do the same thing as me???
We headed down the hill and into the prestene town of Stanton (so glad I took the shortcut whereas my feet were killing me) I had to hunt down my B&B in a town with so few houses you would think it wouldn't be so hard. I was. Some people out on a pony ride directed me to the right house. The owner was out but left me a note for the right room. I couldn't get the shower to work and James and Laura had invited me for a pint at the cricket club around the corner. I changed into some clothes that didn't stink and headed over there. It was quite breezy but we enjoyed out pint (I got some yummy hard cider) and I was taught the basics of Cricket. Apparently it goes on for hours and hours.. They started playing before noon and didn't end till around 7pm.
I hiked back up the hill to the only place to eat in town and got some lemonade, olives and mushroom stroganoff with rice that was very good. There are some very cute orange kitties in the neighborhood that were happy to let me take their pictures. They are still in the process of uploading so I will post them in the morning. Although the jet lag seems to be gone the exhaustion has set in. Luckly there are two beds in the room i'm staying in. The one I'm currently sitting on is quite painful.
Lessons for the day :
1. Make sure your socks fit properly and bring a pair to change into 1/2 way through the day.. blisters suck (i'm afraid for tomorrow)
2. Trust your gut.. when you think the trail is a bad thing.. it probally is
3. If you buy Stilton Cheese your entire backpack will smell like it. (it was sooo tasty though)
4. Re-Apply sunscreen something I would never think to have to do in England
5. Deoderant. I may ok I did forget it this morning.. yup I was the stinky kid.. in my defence I am pretty sure I would have been stinky even if I did have it.
Pictures of Stanton and orange kitties to come in the morning.. it's way past my bedtime